Whatever your goals are, Aetna wants to help you achieve them.
When you enroll in Aetna medical benefits, you invest in a plan to improve your overall health and well-being. Aetna is more than insurance— we're a health care company. And we're right beside you, providing you with the tools and resources you need, to be a stronger and healthier you.
We are simplifying the health experience with a variety of easy-to-understand tools that better engage you in your own health and wellness.
Once you're an Aetna member, you'll have access to tools and resources that will help you know more and be your healthiest. Take a minute to explore some of our popular offerings, available with your State of Kansas health plan.
Your secure member website
Your secure member website
Complete the one-time registration and log in. You'll be able to see what's covered by your plan, order a new ID card or print a temporary one, and check on your claims. You can register for your secure member website once you receive your Aetna ID card (see sample below) in December.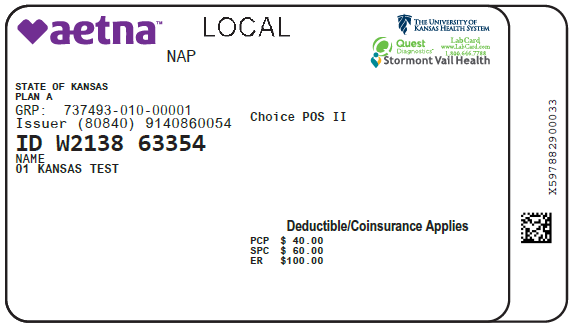 Plus, you'll have access to these great tools:
Provider search tool: Look for network doctors, hospitals, labs and other health care providers in your area. You'll find phone numbers, directions and more.
Teladoc Health: Whether you're traveling, home with a sick child or don't have the time to make an appointment, you'll have a new resource for care. Once you become an Aetna member, you and your eligible dependents have 24/7/365 access to U.S. board-certified doctors, including pediatricians, by phone or video consult.
Online Chat feature: Chat with a customer service representative about your benefits and claims.
Member Payment Estimator cost of care tool: Find out what it costs BEFORE you go to the doctor's office. This tool uses your health plan to figure an estimate.
Personal Health Record: See your medical history all in one place. The Personal Health Record updates itself based on your claim data. It may even warn you about missed medical tests, helping you avoid serious medical issues.
Go mobile with Aetna Health
The Aetna HealthSM app gives you access to your secure member information, anytime, anywhere. Use it to:
Search for a doctor or facility

Use the Urgent Care Finder to find urgent care centers and walk-in clinics

Log in to your secure member site, where you can:

View claims

View coverage and benefits

View your Personal Health Record

View your ID card information

Contact us by phone or e-mail

Speak with a certified doctor via Teladoc

Compare cost of care estimates

View and reply to secure messages
Why download the app?
Aetna Health has screens to fit your phone. When you log in to your secure member website using the app, you won't need to squint or resize anything.
You also can log in through Aetna.com without downloading the app.
How do I get started?
To use the app, you have to be registered for your secure member website.
Then, download the app from Google Play or the App Store.
Aetna is the brand name used for products and services provided by one or more of the Aetna group of subsidiary companies, including Aetna Life Insurance Company and its affiliates (Aetna). Android is a trademark of Google Inc.

Apple, the Apple logo, iPhone, iPod touch and iPad are trademarks of Apple Inc., registered in the U.S. and other countries. App Store is a service mark of Apple Inc.
Google Play is a trademark of Google Inc.